/?php the_meta(); ?>
In my previous article, I have created a list of 8 free screen recorders to capture your screen activity. In this article, I am going to list 4 most popular premium Screen Recording Softwares.
Premium Screen Recording Softwares with Free Trial
Free screen recorders do not offer advance features, you can not record lengthy videos, sometimes video quality is poor and you can not edit your final recordings.
With Premium screen recording software, you can not only record High Definition videos but you can also edit your final videos.
With premium screen recording software like Camtasia, you can remove background noise from audio, add different effects to your videos.
Camtasia is most popular screen recording software used by professionals to create video courses.
1. Camtasia Studio for Windows and MAC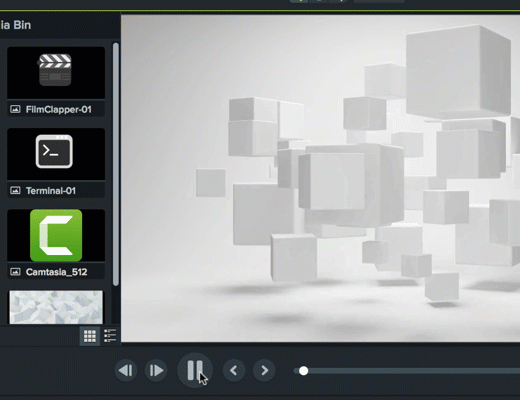 Camtasia Studio is a most popular premium screen recording software to create and publish professional and high-quality videos.
With Camtasia Studio you can record your computer screen and activity very easily.
If you want to create and publish how to video tutorials, want to teach online or even want to sell video courses on your own website, Camtasia Studio is highly recommended.
Camtasia Studio is used by professional level instructors and teachers to create video courses. It is available for Windows and Mac.
Camtasia Studio has published detailed video and PDF tutorials. With these PDF and Video Tutorials, you can learn how to use Camtasia Studio to record, edit and publish high-quality videos.

With Camtasia Studio you can record computer screen, webcam, system and Microphone audio.
One of the most impressive features is Noise Removal feature, which helps you to remove background noise from your recorded audio.
Camtasia Studio has an impressive video editing feature as well, you can edit your videos add captions, Zoom in and Zoom out, transitions, titles, captions and much more.
Your final video will be professional level video. Final video can be exported in different formats.
2. SnagIt : Screenshot and video capture Free Trial – $199
Snagit is another useful software from Camtasia Studio team. Snagit not only allows you to take screenshots but you can also record screen activity.
Snagit offers image editor but it lacks video editor, it means you can not Edit your recorded video with Snagit.

Snagit offers some very basic video editing feature, which won't fulfill your professional level needs.
For example, most basic level microphone does not have noise cancellation feature, when you use mid level or basic mic for audio recording, there will be some background noise in your audio.
With Snagit, you can not remove background noise from your video.
Pro Tip: Use Audacity to remove background noise Well Audacity is a free and very powerful audio editing software, you can use Audacity's noise removal feature to delete background noise from your audio.
3. ScreenFlow for MAC 15 days Free Trial – $49.95
ScreenFlow is most popular and highly recommended Screen Recording Software for MAC users. This is the first choice of professional instructors.
Camtasia has a version for MAC OS but I have read that most MAC users prefer ScreenFlow for screen recording.
With ScreenFlow, you can not only record your Screen Activity but also capture your WebCam, video camera, external microphone and computer's internal audio.
You can easily edit your screen recordings with ScreenFlow's video editor. Both Camtasia and ScreenFlow allows you to add additional video clips, images, text, music, transitions, effects and much more to your Screen recordings.
Free trial is available for ScreenFlow or you can buy it just for $99.
4. GoAnimate 14 day Free Trial
With GoAnimate you can create and publish professional level animated videos. Animated videos can be really interesting and engaging.
For example, you can create animated intro videos for services or apps. GoAnimate offers 14 days free trail. 3 premium level plans available, basic plan starts from $39/month only.
GoAnimate also offers plans for Schools ($59/Year) and Federal Agencies $31.20/month.
You can watch sample Animated videos at goanimate Video Page.
Visit GoAnimate
Final Words
That's all for this list of screen recording softwares. I have been using Camtasia for a long time and it is very powerful screen recording software for Windows users.
Feel free to download the trail version and try it yourself.